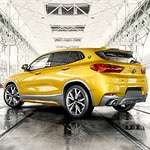 BMW's famous dedication to safety continues in the new X2, a sports activity coupe that combines style with sophisticated technologies that aid in driving while keeping everyone safe.
BMW's active driving assistant system includes a suite of helpful safety features like a frontal collision warning system that uses proximity sensors to gauge distance between the vehicle and other cars or obstructions ahead. This can work in tandem with cruise control to automatically maintain spacing in traffic or as an alert system warning the driver of the potential for collision.
Even if it's difficult to see a vehicle in your blind spot, the X2 monitors vehicles to the side and rear in addition to its own position, sounding a lane departure alert to warn the driver before they potentially cut off a nearby vehicle. The X2 can also helpfully remind the driver what the speed limit is.