The Range Rover Velar car lease range has been boosted with new technology and enhanced well-being options.
There's also the choice of hand-finish paint schemes for the Velar Edition, after a successful launch last year.
Drivers may also like the enhanced cabin air ionisation system with the filter now automatically managing the CO2 levels for boosting the well-being of the driver and occupants.
There's also a purifying cycle feature so users can schedule the system to be cleaned before opening the doors.
Contract hire Range Rover Velar
There are also some safety enhancements to the contract hire Range Rover Velar with adaptive cruise control that features steering assist, and this now sits alongside a comprehensive raft of driver assistance features.
There's also a new rear camera added to the car, plus self-sealing tyres will be introduced in the update.
Range Rover is also looking to refine the petrol and diesel hybrid Ingenium engines and the all-electric range for the P400e plug-in model has been increased to 33 miles with emissions of just 49g/km.
The Velar will also have over-the-air software updates available and there will be wireless Apple CarPlay and Android Auto available for convenience.
Velar lease range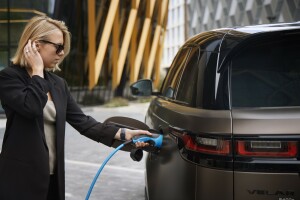 The Velar lease range features impressive integrated digital screens for its infotainment system and it's an intuitive and intelligent offering.
There's also the ability to opt for the S-specification pack to boost the Pivi Pro infotainment system with new electrical architecture and super-fast responsiveness.
This means that the satnav and display screens will be ready to use in just a few seconds.
And Range Rover says that its adaptive cruise control offering will help make long motorway journeys more comfortable by assisting with the acceleration, braking and steering to keep the Velar safe in the centre of its lane.
Based on the firm's R-Dynamic SE model
The Range Rover Velar additions are based on the firm's R-Dynamic SE model which offers 20-inch black alloy wheels and a black contrast roof.
This is a distinctive addition to the popular range with a choice of metallic colours being offered as an option and the firm's full-colour palette available as standard.
This means there are 14 distinctive paint schemes to choose from, including some developed specifically for the Velar.
Prices for the Velar lease model start at £45,925 which makes the contract hire deals for the Range Rover Velar worth checking out.