Not only is the Range Rover Sport one of the best SUVs currently available, but the 2018 model range will also feature a plug-in hybrid for the first time.
The new P400e model will feature electric and petrol power with a total of 404 bhp available and fuel economy of 101 mpg. Electric power is boosted by the firm's 2.0 litre petrol engine.
The all-electric range for the Sport will be 31 miles with emissions of 64g/km. Range Rover says that from 2020 all of its vehicles will have an electric option.
Engines for the Range Rover Sport
The engines for the Range Rover Sport also feature the firm's clean four-cylinder Ingenium V6 and V8 diesel and petrol units.
There's also a new flagship Range Rover Sport, the SVR, which will feature an engine producing 575 bhp so it will complete the 0 to 62 mph sprint in just 4.3 seconds – that's an impressive performance for the weight of the car.
The range topper will also offer improved dynamic capabilities and improved levels of appeal.
New technology for the Range Rover Sport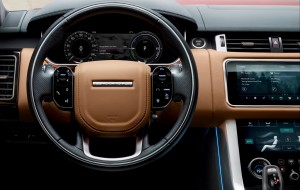 The technology for the Range Rover Sport features the firm's terrain response system which will distribute the torque from the electric motor when needed to boost grip and performance.
There's a new exterior design which helps to modernise the Sport's look with new LED headlights and redesigned grille. The new bumper offers an aggressive profile.
The interior has also been revamped with an impressive new infotainment system which features two high-definition 10 inch touchscreens to offer an engaging interface.
There are also 12 power points to boost in-car connectivity including domestic plug sockets and a new activity key means owners don't need a key fob to lock and unlock their vehicle.
Get this car on personal contract hire
For those drivers interested in the Range Rover Sport P400e then the battery can be recharged in as little as two hours 45 minutes with a quick charger and from a household supply the charge takes seven hours 30 minutes.
Other new features include a gesture sun blind that can be opened and closed by using hand gestures and the new LED headlights provide greater lighting without dazzling oncoming drivers.
The 2018 Range Rover Sport is available to order now.