It's packed with innovative new technologies and a sharper design, and there's a lot to like about the enhanced Audi A8 car lease range.
Audi says their A8 is the premium segment's trailblazer with deliveries starting from March.
This is the successor to the V8 and as such, the luxury saloon offering it is packed with ground-breaking technology.
And drivers get a choice of three models offering a unique position within the segment, they are the A8, the A8L and the S8.
Contract hire Audi A8
The contract hire Audi A8 has a choice of four engines, including 3.0-litre TFSI and 3.0-litre TDI V6 engines.
The Audi estate features a 4.0-litre V8 with cylinder on-demand technology to boost fuel consumption.
There's also the option of hybrid technology with a plug-in hybrid model.
The 3.0-litre diesel unit produces 286 PS with torque of 600Nm.
This will help propel the A8 from 0 to 62 mph in less than six seconds and onto a top speed of 155 mph that has been electronically limited.
The 3.0-litre petrol engine offers 340 PS with torque of 500Nm and a sprint time of 5.6 seconds.
Plug-in hybrid models of the Audi A8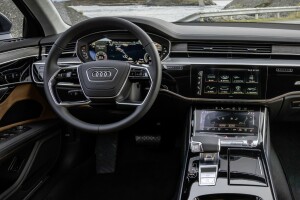 The plug-in hybrid models of the Audi A8 come with a compact electric motor to help propel the vehicle to 62 mph in less than five seconds.
There are four driving modes for the hybrid including fully electric, a combination of 'hybrid' and 'engine' or 'charge' and 'hold' to help conserve battery power.
Drivers will also notice that the suspension system delivers a balanced driving experience as well as sporty fun when needed.
This is down to the adaptive air suspension system that helps to control damping and is fitted as standard.
The predictive active suspension on the S8 sees the chassis being regulated with an electric motor on each wheel and will use a front camera to determine how to adjust the chassis for the smoothest of rides.
Specification for the new Audi A8 line-up
The specification for the new Audi A8 line-up includes an eight-speed automatic transmission fitted as standard, comfort contour seats and a 12.3-inch HD virtual cockpit.
There's also a head-up display, wireless charging and a 10-speaker sound system.
Drivers also get a rearview camera, cruise control, a parking system, traffic sign recognition and a pre-collision sensing system.
While the Audi A8 car lease range is competing in a luxurious segment, the fresh design and innovative technology helps it to stand out from rivals.