This is the impressive new Audi A6 which takes a lot of the refinement and sophistication levels from the incredible A8 to create an excellent executive saloon.
The A6 upgrade will be the eighth generation of the executive saloon and the new body carries Audi's new design language and the offering includes an advanced mild hybrid drivetrain.
There's also a more comfortable suspension and improved cabin comfort.
Audi A6 features the firm's mild hybrid technology
The new Audi A6 features the firm's mild hybrid technology so a belt alternator starter (BAS) works in conjunction with a lithium ion battery so the car can coast at speeds between 34 mph and 99 mph to save fuel.
The engine will also restart when standing still when the vehicle in front moves. The car also recovers energy in real-world driving to help reduce fuel consumption.
There are two new powerful engines to choose from, one is the firm's 3.0 litre TFSI petrol unit returning 40 mpg with emissions of 161g/km.
The alternative is the 3.0 TDI which produces 286 PS and returns 51 mpg with emissions of 150g/km. All A6 models will have automatic transmission, with the diesel unit having an eight speed Tiptronic system while the petrol engine offers a seven-speed S-tronic gearbox.
Audi A6 delivers a futuristic interior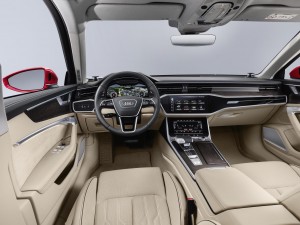 The Audi A6 delivers a futuristic interior with a sleek instrument panel and a sense of space.
The centre console is aimed at driver enjoyment and the driver assistance systems are aimed at delivering safety and comfort on short and long journeys.
Audi says its A6 will set new standards for refinement in its segment including the parking pilot and garage pilot systems being fitted at a later date.
Essentially, the driver can leave their car before activating the system to leave a parking space or their garage.
Get this car on personal contract hire
With the new car having larger dimensions means there's more legroom and improved aerodynamics make the car a pleasant place to be, even when travelling at high speeds.
The new cabin is larger than the A6 it replaces and the legroom is greater than most of its competitors.
The Audi A6 is an incredible offering and will be in our showrooms in the summer with more details about the specification and UK prices revealed closer to its launch.