The 2023 Mazda CX-5 is a compact SUV that stands out in its class with its stylish exterior, luxurious interior, and fun-to-drive personality. Compared to other models like the Toyota RAV4, VW Tiguan, and Subaru Forester, the CX-5 has more spirited handling but smaller proportions.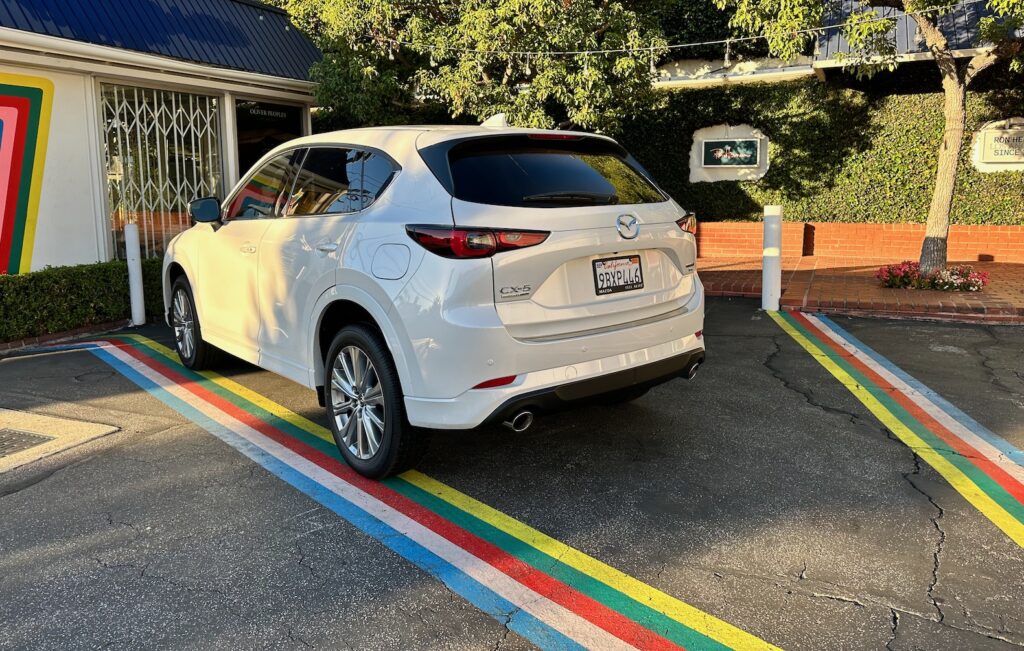 The exterior design exudes class with sculpted and pretty lines, making it a standout compared to its rivals. The CX-5 received some updates for the 2022 model year, which included new lighting and a redesigned grille, so for 2023 it largely carries over without any big changes. Although the CX-5 is older than some newer rivals, like the Honda CR-V, the CX-5 manages to still stand out with its premium look and feel.
The interior of the CX-5 is a standout with its high-quality materials and minimalistic design theme, creating a serene environment. The dashboard has a simple design that feels luxurious thanks to its available real woodgrain trim and Nappa leather seats. But there are some areas of improvement such as the partially digital gauge cluster, which feels less modern compared to fully digital instrument clusters. Also the 10.25 inch infotainment system looks great, but it is not easy to use when on the go, as it requires the use of a rotary dial on the center console. A simple touchscreen would go a long way here. Apple CarPlay and Android Auto are included, but you still have to use a USB cord to connect to either system. A wireless charger is also available.
Given its smaller footprint, there's no surprise that the CX-5 has less interior space than some other compact crossovers. This is mainly felt in the rear where there's 39.6 inches of legroom compared to 41 inches in the CR-V. Cargo space also suffers with up to 30.8 cubic feet of space behind the second row. The CR-V has 39.3 cubic feet of cargo space. If you need more space, Mazda does have the perfect option for you, the larger CX-50.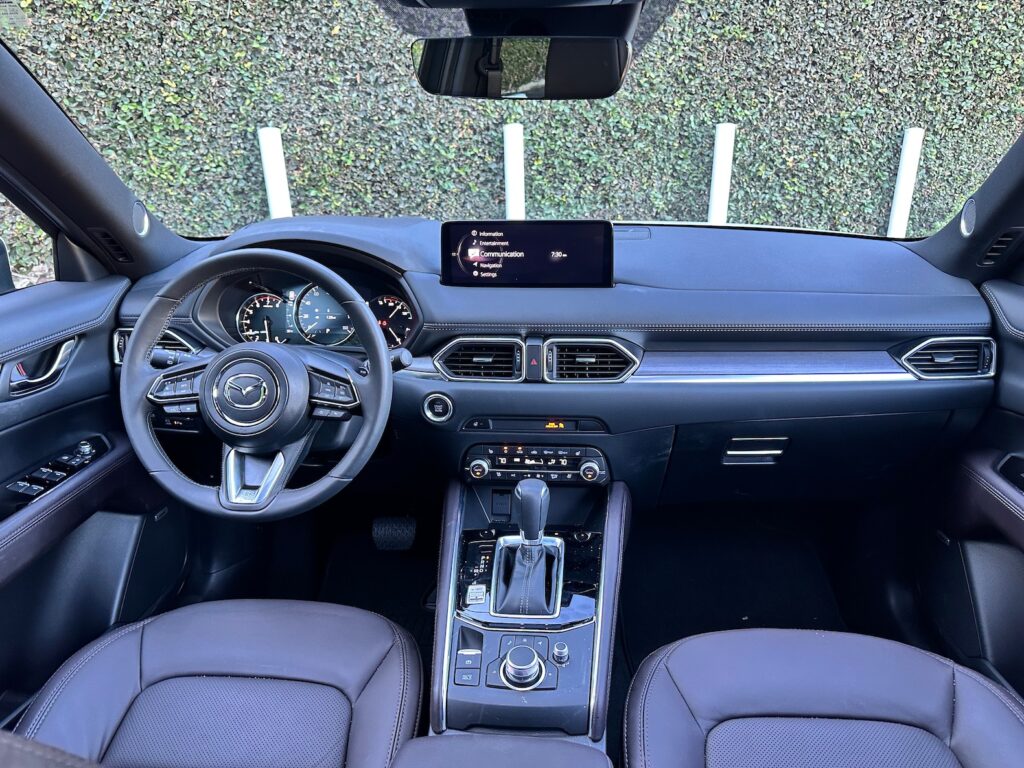 Under the hood, the CX-5 has two engine options: a naturally aspirated 2.5-liter four-cylinder with 187 horsepower and 186 pound-feet of torque, and a turbocharged 2.5-liter that generates up to 256 hp and 320 lb-ft. using 93 octane fuel or 227 hp with 87 octane fuel. Both engines are paired with a six-speed automatic transmission and all-wheel drive is standard. The naturally aspirated engine is rated at 24 mpg city, 30 mpg highway, and 26 mpg combined. The turbocharged engine is slightly less fuel-efficient at 22/27/24 mpg.
The standard engine has more than enough power for everyday drives around the city. But if you want to have more fun, go with the turbo. All of that torque is available at a low 2,500 rpm, which makes the CX-5 pull away from a stop faster than you can in the Honda CR-V, Nissan Rogue or Toyota RAV4. The six-speed transmission may be short on gears compared to some competitors, but it reacts quickly and we'd still prefer it over a CVT.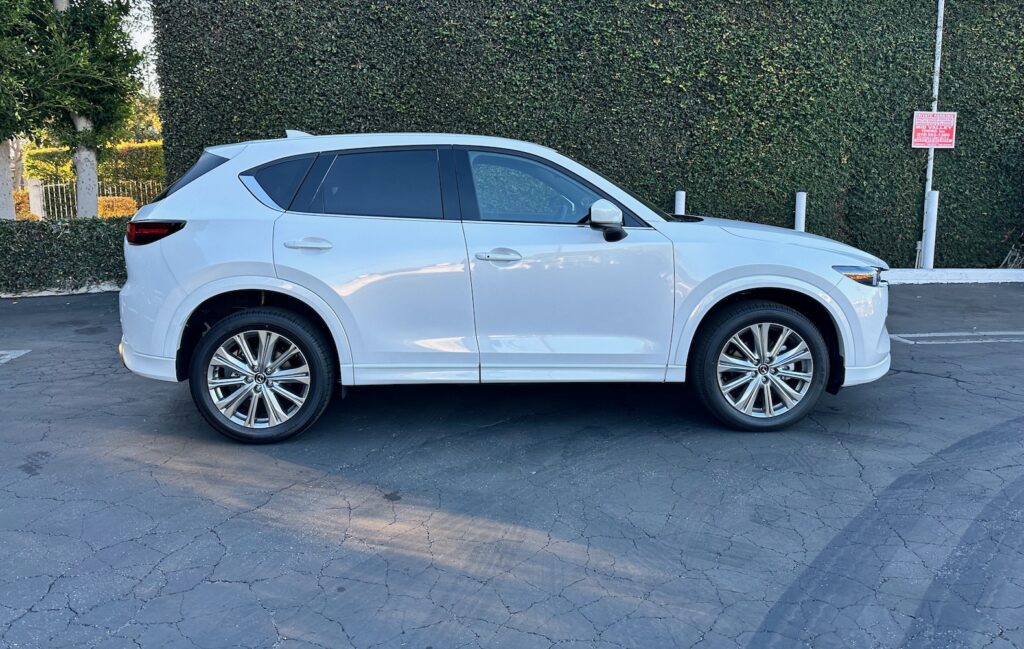 The CX-5 stands out for its comfortable, yet sporty ride and accurate steering. The suspension does a great job of absorbing road bumps and the CX-5 feels composed and refined on the road. The CX-5 is clearly the driver's choice in the segment.
The 2023 Mazda CX-5 is available in eight different versions. The S, S Select, S Preferred, S Carbon Edition, Premium and Premium Plus versions are powered by the naturally aspirated engine. The turbo is only available in two trim levels: Turbo and Turbo Signature. The pricing for the CX-5 starts at $27,975, including destination. The turbocharged version starts at $38,125.
At the end of the day, the 2023 Mazda CX-5 is one of the best compact crossovers you can buy. It's premium styling inside and out makes it feel like a luxury crossover, while its available turbocharged engine provides more fun than you would expect in this segment.