The Audi A3 doesn't stand out from German rivals, but its confident composure is undeniable and pocket-rocket RS3 sure do. The Audi A3 small sedan ratchets up the power in S3 and RS3 performance models, but the base car competes with German rivals such as the BMW 2-Series and Mercedes-Benz A-Class, as well as the reborn Acura Integra. It's a great small car with tight handling and powered by peppy turbo engines.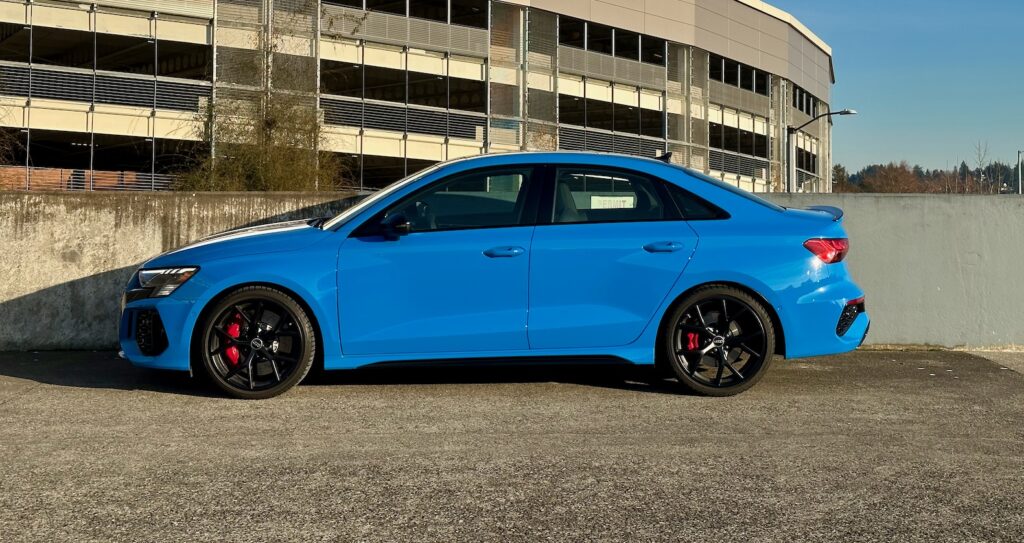 The 2023 Audi A3 is unassuming and unpretentious. Understated but confident, the A3 lacks the over styled characteristics of BMW and the opulent interiors of Mercedes-Benz, meanwhile the RS3 has all the boy racer looks. The small sedan sports a broad trapezoidal grille flanked by lower air intakes that grow bigger on S and RS models. Slim running lights make brows over narrow LED headlights that lead into a belt line down each side. A lower crease rises up to the rear wheels, which range from 17 inches on the A3 to 19 inches on the RS 3. A snub decklid conceals dual exhaust pipes on the A3, but the S3 flexes dual twin exhausts and the RS 3 opens up to massive chrome-tipped pipes on either side.
Turbo power and surefooted agility make the 2023 Audi A3 a winner. A pair of turbo-4s give the A3 plenty of snap, but its true charm is how well it sticks to the pavement. Front-wheel drive comes standard, but Quattro all-wheel drive is a $2,000 addition we'd recommend for greater all-weather grip and performance. The S3 and RS3 come standard with Quattro, and in the RS3 all of the torque can be shuttled to the rear axle, where an electronically controlled rear differential then sends all of that power to one rear wheel or the other, if need be.
The A3's speed varies by model, but the small engines pack decent to big power. The base A3 uses a 2.0-liter turbo-4 that makes 201 hp and 221 lb-ft of torque. Audi claims it hits 60 mph in 6.6 seconds, but all-wheel drive trims it to 6.3 seconds. That's another argument for AWD, though it adds 170 lb for a curb weight of just under 3,500 lb. The turbo lag can be abated in Dynamic mode, and the various drive modes represent some of the biggest differences in throttle response of cars we've tested. A 7-speed automatic transmission mostly hits the right gears, though it takes a beat to downshift when laying into it after braking.
The A3 stays close to the ground and lacks lean in turns, yet it doesn't ride harshly when cruising along, thanks in part to a front strut and rear four-link independent suspension. Direct steering with decent feedback keeps the small car on track. Overall, the car's composure instills confidence to keep pushing it, until sharp turns when the nose loads up and starts to plow. The S3 does it better, with its available adaptive dampers and a turbo-4 tuned to 306 hp and 295 lb-ft. It hits 60 mph in 4.5 seconds, and the engine can snap, crackle, and pop for a more visceral experience.
At the top of the A3 lineup sits the RS3 and its unconventional 2.5-liter turbo-5, that's right, a five cylinder that doesn't fire in the order of how the pistons are lined up. It makes 401 hp and 369 lb-ft, and has a 0-60 mph time of 3.6 seconds with launch control. The turbo lag can be pronounced, however, unless pressing the RS button on the steering wheel. Then it's a gut punch of the best kind, with excellent responses in the second and third gears of the 7-speed dual clutch automatic. It's a trackable car, especially with the rear-wheel drive bias that can surprise with how it rotates the car. It's easy and natural to get it back in line, however.
The suite of turbo engines return good fuel economy, even when paired with AWD. Standard as a mild-hybrid that cuts engine power when coasting to a stop, the A3 gets up to 32 mpg combined. The EPA rates the A3 with FWD at 28 mpg city, 38 highway, and 32 combined. The BMW 2-Series peaks at 29 mpg combined. Audi's AWD system in the A3 cuts the ratings to 27/35/30 mpg. With AWD standard, the more potent S3 rates at 23/32/26 mpg, while the RS 3 trades miles for smiles to 20/29/23 mpg. In our week with the barn storming RS3 test vehicle, we averaged a commendable 24.8mpg, even with our lead feet.
The Audi A3 has impressive safety tech designed to avoid crashes. Entering its second year after a redesign, the A3 still hasn't been crash tested by the NHTSA, but the IIHS rates it a Top Safety Pick+; there highest rating. The standard driver-assist features include automatic emergency braking, lane-departure warnings, automatic high beams, and LED headlights come standard. The Premium Plus trim adds adaptive cruise control, active lane control, blind-spot monitors, and parking sensors.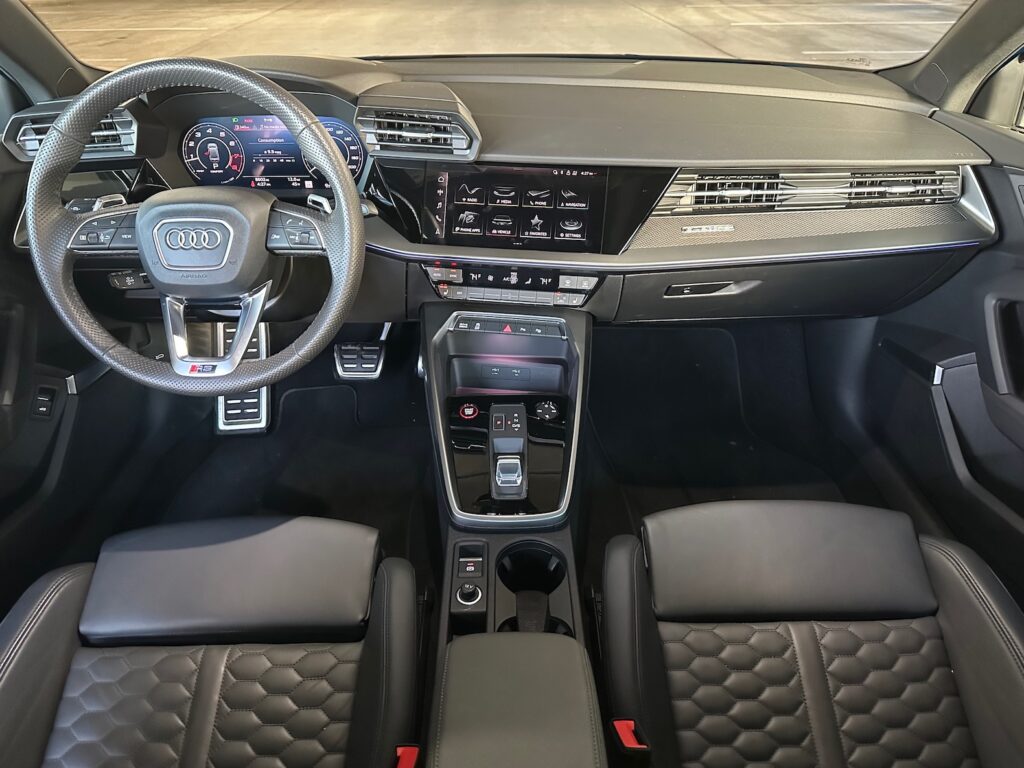 The interior lacks the flash of rivals, but its calm, conservative design has plenty of appeal. A layered dash with a 10.1-inch touchscreen angles toward the driver, with high horizontal vents that flank the 10.3-inch digital instrument cluster. The passenger vents take a step down, above a metallic shelf. A climate control panel with toggles combines a digital display, and the center console contains a clever gear lever. The entry-level Audi doesn't skimp on luxury finishes. The compact sedan features comfortable heated and power front seats covered in leather upholstery and a fit and finish that bridges the gap between the mainstream and luxury classes.
With a dash composed of bright metallic plates and pliant, textured rubber, as well as solid standard comfort features, the A3 gives shoppers an entry-level taste into Volkswagen's luxury brand. Basic materials predominate on the rear door panels, but it's roomy enough to fit two adults in back due to its 35.2 inches of leg room, though 6-footers might need to slouch. A 40/20/40 split rear seat opens up more room from the small trunk, which stows only 10.9 cubic feet of cargo. The trunk's narrow opening makes it hard to get bulky stuff like a goalie hockey bag inside. The S3 and RS 3 shrink the cargo space down to 8.3 cubic feet.
Audi equips the A3 with good standard features and reasonable packages. At a starting price of about $36,000, including a $1,095 destination fee, the 2023 Audi A3 comes well equipped with a 10.1-inch touchscreen, a comprehensive but never intrusive 10.3-inch digital instrument cluster, leather upholstery, power front seats that are heated, and a power sunroof. That's a great value but unfortunately its 4-year/50,000-mile warranty excludes any scheduled maintenance.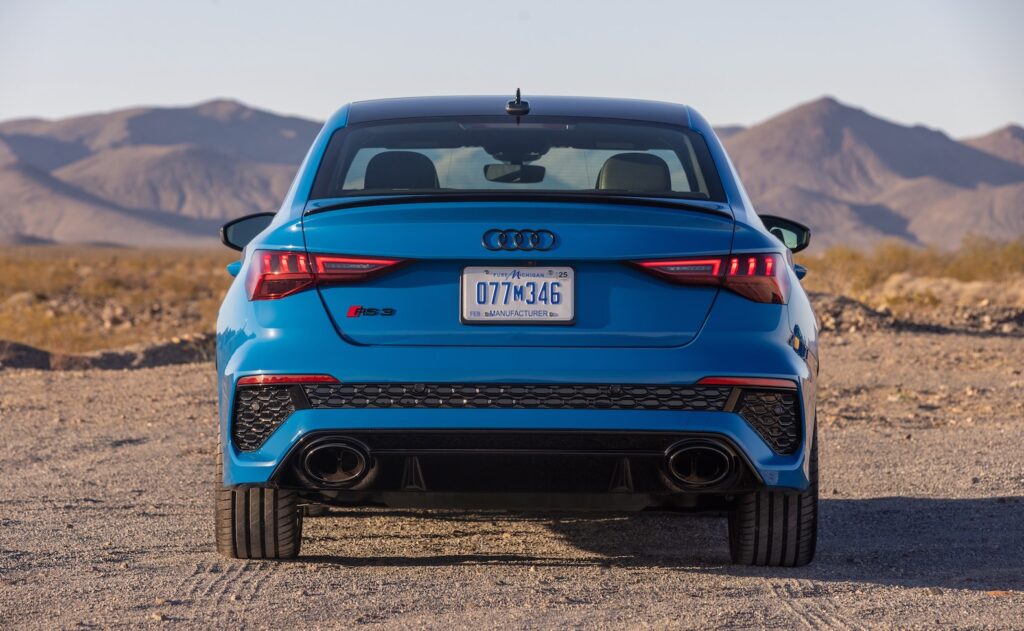 Assuming the S3 and RS3 are a different discussion, the A3 shines best once removed from the Premium grade and into the Premium Plus model for about $41,000. It adds adaptive cruise control, wireless smartphone charging, and a surround-view camera system, as well as blind-spot monitors, and active lane control.
For about $8,500 more, the S3 tempts with its uprated engine, 18-inch summer performance tires, sport bucket seats, and larger brakes. At that point, the RS3 comes into view. The RS3 amps up the performance and the price in equal measure, starting at $59,995. Add some black wheels with 19-inch summer tires, an RS exhaust system, as well as a $2,750 Tech package with a head-up display, and it climbs to $65,000.
The 2023 Audi A3 appeals to many first time luxury and sport sedan buyers, understandably so. Attractive styling, refined driving dynamics, and decent bang for the buck all made for a recipe that people can't ignore. Now in its second year of the current generation, the 2023 Audi A3 has improved upon all of those hallmarks with adding in strong doses of technology and cutting edge powertrains, including the awe inspiring RS3. All these improvements keep the Audi Q3 at the top of its class, and our top pick in the class.